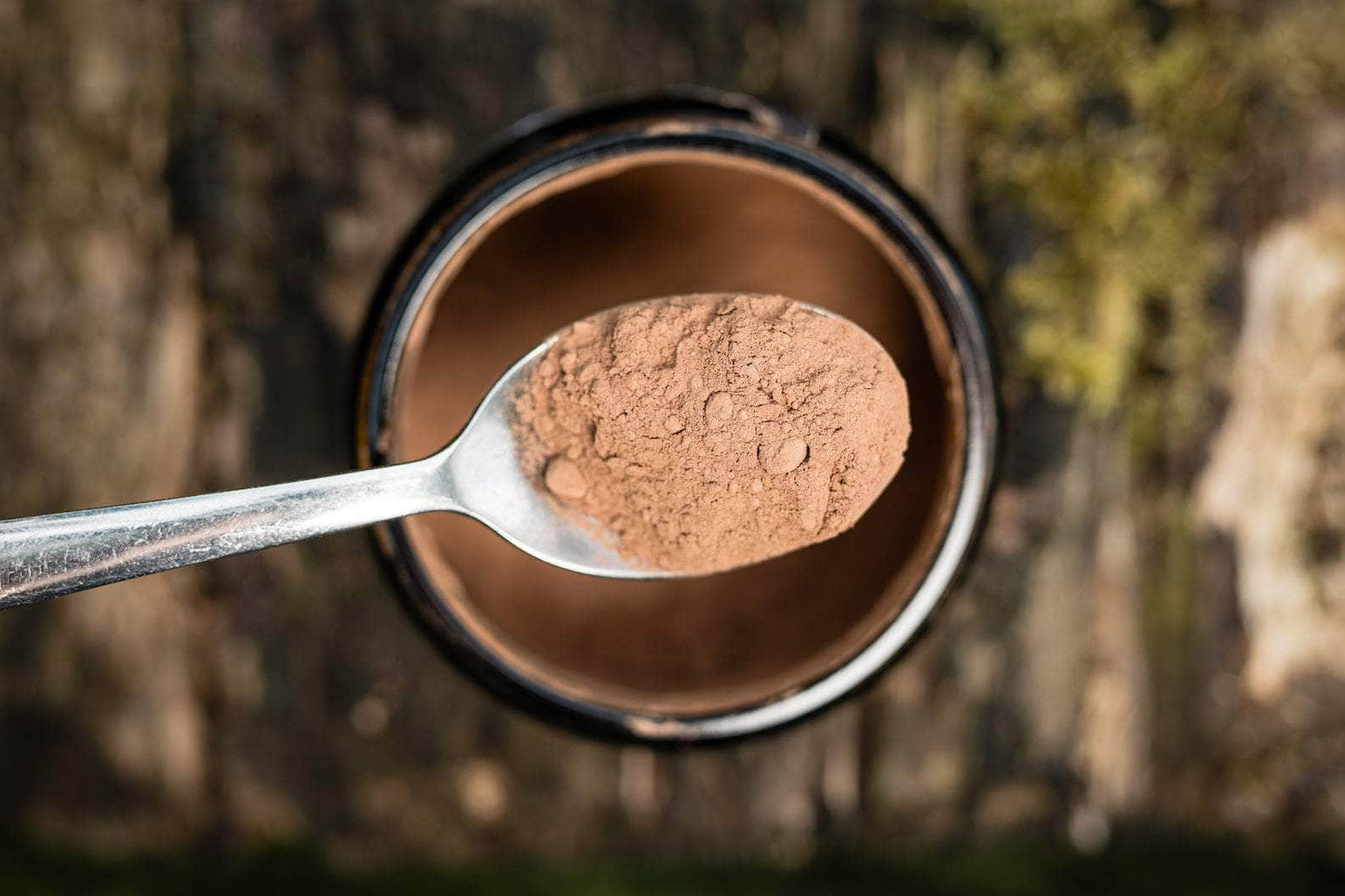 Chaga Mushroom Benefits
Immune System Support
Antioxidant Properties
Antiviral Potential
Skin Health
May Lower Blood Sugar
May Support Liver Health

FAQs
Chaga has been used traditionally for centuries, particularly in Russian and Northern European folk medicine. Here are some potential benefits of Chaga:

Antioxidant Properties: Chaga is rich in antioxidants, which can help combat oxidative stress and may reduce the risk of diseases associated with oxidative damage.
Immune System Support: Traditional users often turn to Chaga for its potential immune-boosting properties. Some compounds in Chaga, like beta-D-glucans, are believed to stimulate the immune system.
Anti-inflammatory: Chaga might have anti-inflammatory effects, which can be beneficial in managing conditions characterized by inflammation.
Antiviral: Preliminary studies have suggested that Chaga may have antiviral properties against some viruses.
Supporting Gut Health: Some believe that Chaga can be beneficial for the gut, potentially helping with various digestive issues.
Anti-Cancer Properties: In vitro (test tube) and animal studies have suggested that Chaga might inhibit the growth of certain cancer cells. However, more research, especially in humans, is needed.
Lowering Blood Sugar: There's some evidence from animal studies that Chaga might help in reducing blood sugar levels, which could be beneficial for people with diabetes. However, human studies are required to confirm this potential benefit.
Cholesterol Reduction: Animal studies have shown that Chaga can influence cholesterol metabolism, potentially leading to reduced levels of LDL ("bad") cholesterol.
Supporting Liver Health: Preliminary research indicates that Chaga may provide protection against liver damage in animals.
Skin Health: Due to its antioxidant properties, some suggest that Chaga might help maintain skin health, though direct evidence is limited.
Chaga is often consumed as a tea or tincture, and its taste is quite unique: mild, earthy, slightly bitter, woody, clean and pure.
Add 1/4 to 1 teaspoons of this Wild Chaga Mushroom Extract powder to hot water, coffee or even make yourself a delicious hot choc Chaga elixir by combining it with your favorite milk, maple syrup and perhaps a pinch of pink salt.
Store in a cool, dry and dark place. Once opened use within 4 months...

as if there will be any remaining by then!
Wood Grown - not oat grown (for potency and integrity)
Heavy metal testing on every batch
Ancient wisdom applied in the extraction process

ENRICHD Wildcrafted Chaga is handpicked and harvested from wild birch trees in pristine forests in the pristine sacred Changbai mountains. Renowned as the 'King of Mushrooms' we invite you to enjoy one of nature's most powerful super foods! 

Our Wild Chaga is of exceptional quality and ethically picked at the right times in the season to maintain the health of the tree.
Chaga has been studied for its anti-viral, anti-cancer, anti-fungal, anti-allergic, anti-malarial, and anti-tumor properties. This is good because it may help you avoid or fight the above.


Chaga is LOADED with antioxidants (with an exceptional ORAC value, it beats almost all other foods).

Chaga may help with stomach issues including IBS, ulcers and gastritis.

Chaga has been consumed for thousands of years because of these potential health benefits.

Chaga contains ample melanin, reported to be a gene protector and DNA repairer.

Medical notes:

Chaga is potent. One should be aware of taking Chaga in conjunction with immune-suppressing medicines, the effects of which Chaga may negate.

Additionally, consuming Chaga mushrooms in combination with blood-thinning medications may magnify their effects.

Chaga may also interact with diabetes medications, which may cause blood sugar levels to fall too low.

Speak with your healthcare professional before drinking.

Disclaimer:

You should not rely on this information as a substitute for, nor does it replace professional medical advice, diagnosis, or treatment. If you have any concerns or questions about your health, you should always consult with a physician or other healthcare professional. Consult your doctor before consuming Chaga mushrooms.

Chaga sources and science:

https://www.ncbi.nlm.nih.gov/pmc/articles/PMC2681140/
https://www.ncbi.nlm.nih.gov/pmc/articles/PMC4946216/
https://www.ncbi.nlm.nih.gov/pubmed/22819687
https://www.ncbi.nlm.nih.gov/pubmed/22135889
https://www.ncbi.nlm.nih.gov/pmc/articles/PMC2895696/
https://www.ncbi.nlm.nih.gov/pmc/articles/PMC1193547/
https://www.ncbi.nlm.nih.gov/pubmed/26210065
https://www.ncbi.nlm.nih.gov/pubmed/26853962
http://www.fengshuilondon.net/health/chaga-mushrooms-health-benefits-of-chaga
https://www.uaf.edu/files/olli/Chaga-Powerpoint.pdf

DRINKING

This product should not be used as a substitute for a balanced and varied diet. You should consult your doctor if you are being treated for any medical condition, are pregnant or nursing. Keep out of reach of children. Do not use if seal is broken or missing.

IMPORTANT

(references below)

One should be aware of taking Chaga in conjunction with immune suppressing medicines, the effects of which Chaga may negate. Additionally, consuming Chaga mushroom in combination with blood-thinning medications may magnify their effects. Chaga may also interact with diabetes medications, which may cause blood sugar levels to fall too low. Some sources also warn about high levels oxalates in chaga - and that if someone has existing kidney issues should speak with their doctor. 


"Auto-immune diseases including rheumatoid arthritis (RA), multiple sclerosis (MS), lupus (systemic lupus erythematosus (SLE) — Chaga mushroom can make the immune system more active, which could lead to increased symptoms of auto-immune disease.

- Diabetes — Chaga may decrease blood sugar levels in diabetics.

- Bleeding Disorders — Chaga may raise the risk of bleeding. So it's best not to use Chaga mushroom if you have a bleeding disorder.

- Surgery — Stop using Chaga at least two weeks before any type of surgery since Chaga may increase bleeding risk and/or affect blood sugar control during and after surgery.

- If you have any negative side effects while taking Chaga mushroom, discontinue use and seek medication attention if needed."

REFERENCES

https://www.ncbi.nlm.nih.gov/pmc/articles/PMC2681140/
https://www.ncbi.nlm.nih.gov/pubmed/22819687
https://www.ncbi.nlm.nih.gov/pubmed/22135889
https://www.ncbi.nlm.nih.gov/pmc/articles/PMC2895696/
https://www.ncbi.nlm.nih.gov/pmc/articles/PMC1193547/
https://www.ncbi.nlm.nih.gov/pubmed/26210065
https://www.ncbi.nlm.nih.gov/pubmed/26853962
http://www.fengshuilondon.net/health/chaga-mushrooms-health-benefits-of-chaga
https://www.uaf.edu/files/olli/Chaga-Powerpoint.pdf